When I first heard Tom Marzetta describe Massive MIMO with an infinite number of antennas, I felt uncomfortable since it challenged my way of thinking about MIMO. His results and conclusions seemed too good to be true and were obtained using a surprisingly simple channel model. I was a Ph.D. student then and couldn't pinpoint specific errors, but I sensed something was wrong with the asymptotic analysis.
I've later grown to understand that Massive MIMO has all the fantastic features that Marzetta envisioned in his seminal paper. Even the conclusions from his asymptotic analysis are correct, even if the choice of model overemphasizes the impact of pilot contamination. The only issue is that one cannot reach all the way to the asymptotic limit, where the number of antennas is infinite.
Assuming that the universe is infinite, we could indeed build an infinitely large antenna array. The issue is that the uncorrelated and correlated fading models that were used for asymptotic Massive MIMO analysis during the last decade will, as the number of antennas increases, eventually deliver more signal power to the receiver than was transmitted. This breaches a fundamental physical principle: the law of conservation of energy. Hence, the conventional channel models cannot predict the actual performance limits.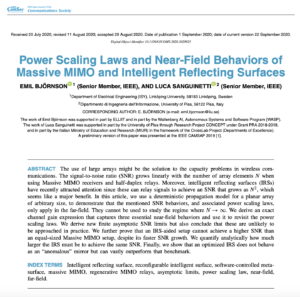 In 2019, Luca Sanguinetti and I finally figured out how to study the actual asymptotic performance limits. As the number of antennas and array size grow, the receiver will eventually be in the radiative near-field of the transmitter. This basically means that the outermost antennas contribute less to the channel gain than the innermost antennas, and this effect becomes dominant as the number of antennas goes to infinity. We published the analytical results in the article "Power Scaling Laws and Near-Field Behaviors of Massive MIMO and Intelligent Reflecting Surfaces" in the IEEE Open Journal of the Communications Society. In particular, we highlighted the implications for both MIMO receivers, MIMO relays, and intelligent reflecting surfaces. I have explained our main insights in a previous blog post, so I will not repeat it here.
I am proud to announce that this article has received the 2023 IEEE Communications Society Outstanding Paper Award. We wrote this article to quench our curiosity without knowing that the analysis of near-field propagation would later become one of the leading 6G research directions. From our perspective, we just found an answer to a fundamental issue that had been bugging us for years and published it in case others would be interested. Another journal first rejected the paper; thus, this is also a story of how one can reach success with hard work, even when other researchers are initially skeptical of your results and their practical utility.
The following 5-minute video summarizes the paper neatly: