Channel fading has always been a limiting factor in wireless communications, which is why various diversity schemes have been developed to combat fading (and other channel impairments). The basic idea is to obtain many "independent" observations of the channel and exploit that it is unlikely that all of these observations are subject to deep fade in parallel. These observations can be obtained over time, frequency, space, polarization, etc.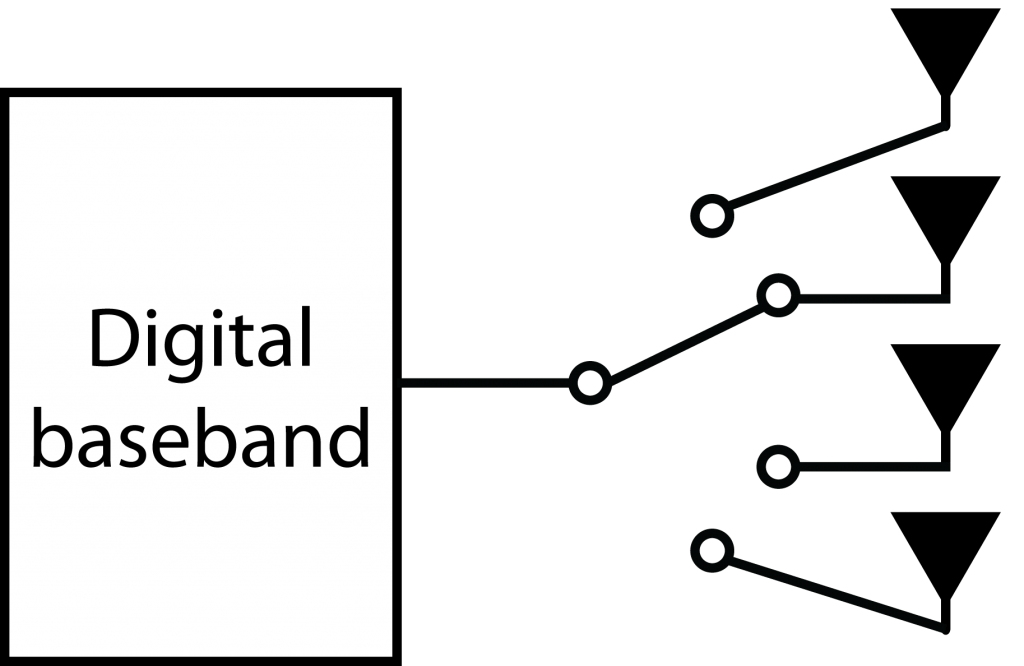 Antenna selection is the basic form of space diversity. Suppose a base station (BS) equipped with multiple antennas applies antenna selection. In the uplink, the BS only uses the antenna that currently gives the highest signal-to-interference-and-noise ratio (SINR). In the downlink, the BS only transmits from the antenna that currently has the highest SINR. As the user moves around, the fading changes and we, therefore, need to reselect which antenna to use.
The term antenna selection diversity can be traced back to the 1980s, but this diversity scheme was analyzed already in the 1950s. One well-cited paper from that time is Linear Diversity Combining Techniques by D. G. Brennan. This paper demonstrates mathematically and numerically that selection diversity is suboptimal, while the scheme called maximum-ratio combining (MRC) always provides higher SINR. Hence, instead of only selecting one antenna, it is preferable for the BS to coherently combine the signals from/to all the antennas to maximize the SINR. When the MRC scheme is applied in Massive MIMO with a very large number of antennas, we often talk about channel hardening but this is nothing but an extreme form of space diversity that almost entirely removes the fading effect.
Even if the suboptimality of selection diversity has been known for 60 years, the antenna selection concept has continued to be analyzed in the MIMO literature and recently also in the context of Massive MIMO. Many recent papers are considering a generalization of the scheme that is known as antenna subset selection, where a subset of the antennas is selected and then MRC is applied using only these ones.
Why use antenna selection?
A common motivation for using antenna selection is that it would be too expensive to equip every antenna with a dedicated transceiver chain in Massive MIMO, therefore we need to sacrifice some of the performance to achieve a feasible implementation. This is a misleading motivation since Massive MIMO capable base stations have already been developed and commercially deployed. I think a better motivation would be that we can save power by only using a subset of the antennas at a time, particularly, when the traffic load is below the maximum system capacity so we don't need to compromise with the users' throughput.
The recent papers [1], [2], [3] on the topic consider narrowband MIMO channels. In contrast, Massive MIMO will in practice be used in wideband systems where the channel fading is different between subcarriers. That means that one antenna will give the highest SINR on one subcarrier, while another antenna will give the highest SINR on another subcarrier. If we apply the antenna selection principle on a per-subcarrier basis in a wideband OFDM system with thousands of subcarriers, we will probably use all the antennas on at least one of the subcarrier. Consequently, we cannot turn off any of the antennas and the power saving benefits are lost.
We can instead apply the antenna selection scheme based on the average received power over all the subcarriers, but most channel models assume that this average power is the same for every base station antenna (this applies to both i.i.d. fading and correlated fading models, such as the one-ring model). That means that if we want to turn off antennas, we can select them randomly since all random selections will be (almost) equally good, and there are no selection diversity gains to be harvested.
This is why we can forget about antenna selection diversity in Massive MIMO!
It is only when the average channel gain is different among the antennas that antenna subset selection diversity might have a role to play. In that case, the antenna selection is governed by variations in the large-scale fading instead of variations in the small-scale fading, as conventionally assumed. This paper takes a step in that direction. I think this is the only case of antenna (subset) selection that might deserve further attention, while in general, it is a concept that can be forgotten.