I am giving a tutorial on "Beyond Massive MIMO: User-Centric Cell-Free Massive MIMO" at Globecom 2020, together with my colleagues Luca Sanguinetti and Özlem Tuğfe Demir. It is a prerecorded 3-hour tutorial that can be viewed online at any time during the conference and there will be a live Q/A session on December 11 where we are available for questions.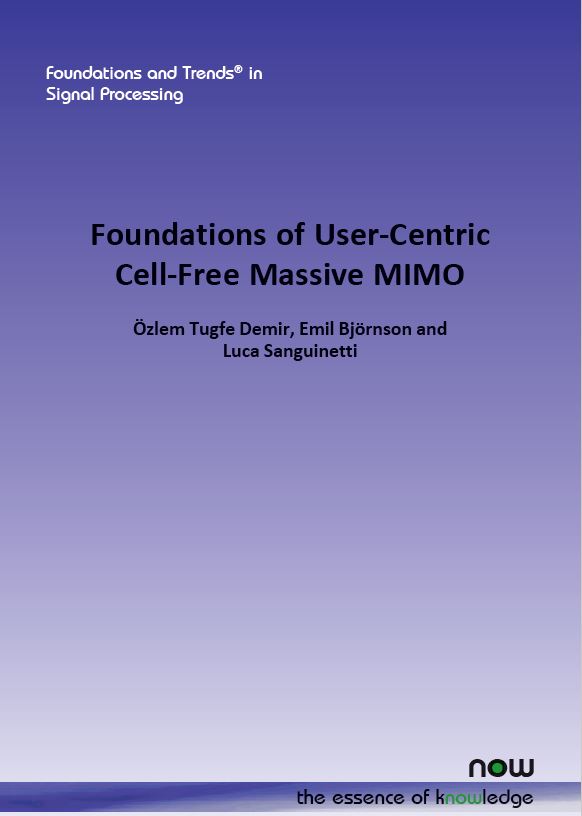 The tutorial is based on our upcoming book on the topic: Foundations on User-Centric Cell-free Massive MIMO.
Until December 11 (the last day of the tutorial), we are offering a free preprint of the book, which can be downloaded by creating an account at the NOW publishers' website. By doing so, I think you will also get notified when the final version of the book is available early next year, so you can gain access to the final PDF and an offer to buy printed copies.
If you download the book and have any feedback that we can take into account when preparing the final version, we will highly appreciate to receive it! Please email me your feedback by December 15. You find the address in the PDF.
The abstract of the tutorial is as follows:
Massive MIMO (multiple-input multiple-output) is no longer a promising concept for cellular networks-in 2019 5G it became a reality, with 64-antenna fully digital base stations being commercially deployed in many countries. However, this is not the final destination in a world where ubiquitous wireless access is in demand by an increasing population. It is, therefore, time for MIMO and mmWave communication researchers to consider new multi-antenna technologies that might lay the foundations for beyond 5G networks. In particular, we need to focus on improving the uniformity of the service quality.
Suppose all the base station antennas are distributed over the coverage area instead of co-located in arrays at a few elevated locations, so that the mobile terminals are surrounded by antennas instead of having a few base stations surrounded by mobile terminals. How can we operate such a network? The ideal solution is to let each mobile terminal be served by coherent joint transmission and reception from all the antennas that can make a non-negligible impact on their performance. That effectively leads to a user-centric post-cellular network architecture, called "User-Centric Cell-Free Massive MIMO". Recent papers have developed innovative signal processing and radio resource allocation algorithms to make this new technology possible, and the industry has taken steps towards implementation. Substantial performance gains compared to small-cell networks (where each distributed antenna operates autonomously) and cellular Massive MIMO have been demonstrated in numerical studies, particularly, when it comes to the uniformity of the achievable data rates over the coverage area.