If you are an academic physical-layer researcher, like me, you might be used to treating the base station as a single unit that takes a digital data signal as input and then outputs an electromagnetic radio wave (or the opposite in the uplink). The reality is quite different, or at least it used to be.
A traditional base station consists of three main components: a baseband unit (BBU) that takes care of digital signal processing, a radio unit that creates the analog radio-frequency (RF) signal, and a passive antenna that emits the RF signals with a constant radiation pattern. Due to the size and weight constraints of masts and towers, the radio and BBU are deployed underneath and there is a long RF feeder cable between the antenna and radio, resulting in substantial power losses. This is illustrated as "Step 1" in the figure below. A single BBU can support multiple radios that are deployed on the same site, which might cover different frequency bands or cell sectors (this is not illustrated).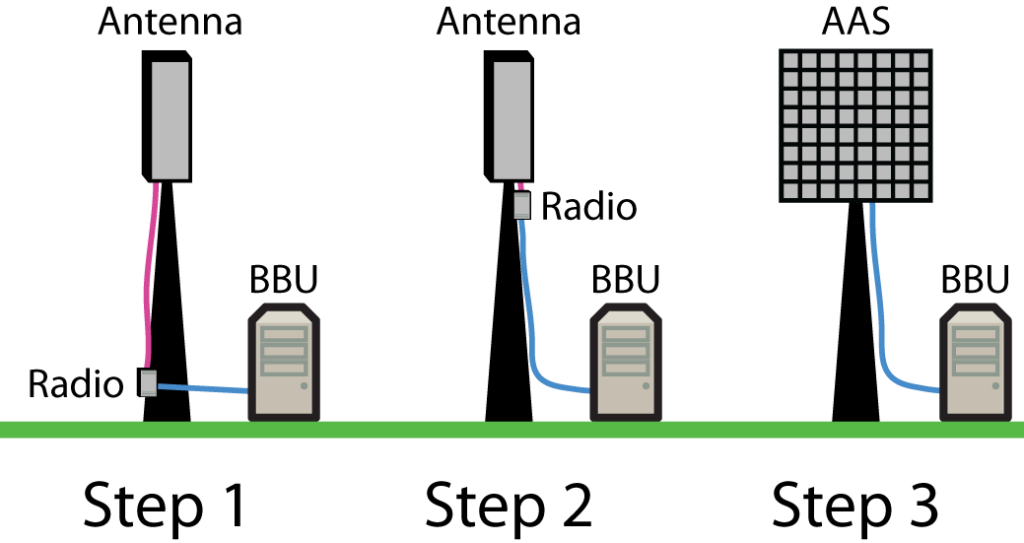 Now when the radio hardware has reduced in size, it is common to use remote radio units that are deployed in the tower, close to the antenna instead of close to the BBU. This is denoted as "Step 2" in the figure above and became common in the 4G era. Only a short RF feeder cable is then needed, while an optical fiber can be drawn from the BBU to the radio. The next step in the development is active antennas that integrate the antenna and radio into a single unit. There are many types of active antennas, from single-antenna units with constant radiation patterns to Massive MIMO antennas that adapt the radiation patterns by beamforming. To distinguish these things, the term advanced antenna system (AAS) is being used in the industry to refer to active Massive MIMO antenna arrays. This setup is denoted as "Step 3" in the figure and is becoming the dominating approach in the 5G era. To limit the capacity of the optical fiber between the AAS and BBU, an AAS might perform a limited set of baseband processing to compress/decompress the signals.
In summary, the latest radio-integrated active antennas are quite similar to what physical-layer researchers have been imaging for a while: A single unit that takes digital signals as input and emits an RF signal. Small cells can even include the BBU in the active antenna, while macro cell deployments purposely keep the BBU separate so it can be shared between multiple active antennas (it can even be moved to a nearby "cloud" computer). The advent of AAS technology is a key enabling factor for Massive MIMO deployment; a single box with 64 antennas and 64 radios can be made rather compact, while a deployment with 64 separate antenna boxes, 64 separate radio units, and an equal number of cables wouldn't make practical sense.